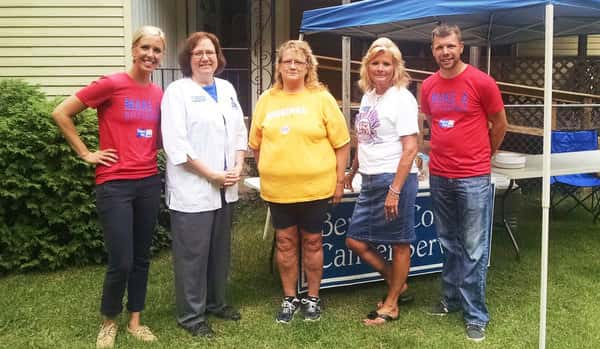 By Pat Moody | Posted August 9, 2016 | Moody on the Market
Wolverine Pipe Line Company plays a role in the lives of many people throughout the Midwest, but perhaps none so much as the life of a cancer patient in Niles helped out in a recent Day of Caring with United Way of Southwest Michigan. The Portage-based company which has a terminal and contingent of workers in the community of Niles has a baseline goal to "act as a good neighbor in the local communities where our pipelines travel." Members of the Wolverine team turned out to be great neighbors to Louise Adams last Friday when they wowed her with the work they did on her behalf.
Adams is a patient of Berrien County Cancer Services who arranged to lend a hand on the Day of Caring last week with team members from not only Wolverine Pipe Line, but also Kachur Tree Service of Niles. Together they performed a number of home repairs and performed extensive yard clean up to help make Ms. Adams home a more healing environment as she works through her illness.
Kachur Tree Service workers removed three large pine trees that had toppled onto Ms. Adams' yard during a recent storm. That job alone took more than four hours to rid the yard of the toppled trees and the accumulated debris.
Meanwhile, the Wolverine Pipe Line crew contributed more than 104 man-hours in completing a new stairway leading to the backyard after removal of a dangerous and unstable deck. They also installed smoke detectors and new lighting in the home, built new stairs to the basement, and installed a new dehumidifier among other things. 
David Brooks is a spokesman for the Wolverine Pipe Line team. He tells us the team looks forward to the annual "Day of Caring" event, "Because in the storm of cancer, we like to be that beacon of light," and they like to "go and inspire others to do the same by becoming involved in the Niles community." The company not only helps out on the Day of Caring, but is also a regular contributor to the United Way annual campaigns.
Also helping make the day magical for everyone involved was Four Flags Chamber of Commerce President Tyanna Weller who delivered breakfast to the crews working there and friends at Milano's Pizza of Niles who catered lunch and provided a gift to Louise.
Berrien County Cancer Services is able to continue to provide skilled Oncology Nursing Services and supportive resources at no cost to patients in Southwest Michigan because of their partnership with United Way of Southwest Michigan and the generosity of the community at large.
Shown in the photo accompanying this story on Moody on the Market.com are (from left to right) Charlotte Rogers from United Way, Nancy Church, Executive Director of Berrien County Cancer Services, patient Louise Adams, Renee Reid-Smith, Community Development Liaison for BCCS and Josh Kirshman of United Way of SW Michigan.