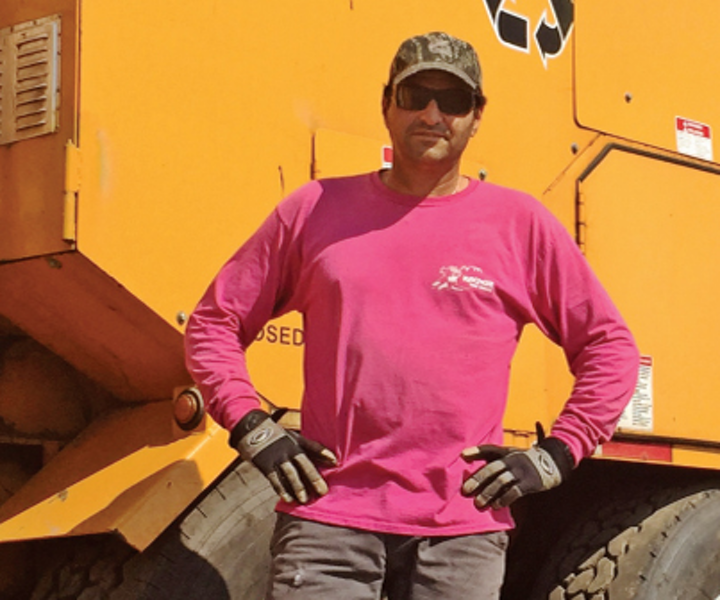 By Carol Brzozowski | GX Contractor | Apr 25th, 2018
Operating a successful business often requires diversifying to meet changing needs. Mike Kachur, the owner of Kachur Tree Service in Niles, MI, has learned to turn challenges into opportunities. His company provides site clearing, among other services. Initially, the company's services generated so much waste, Kachur tired of trying to find places to dump it. Demand for mulch was on the rise, but not so much for wood chips, he notes. After purchasing a grinder, Kachur started generating an income stream from creating mulch onsite from the green waste. Purchasing a Bandit Beast helped him increase productivity, he adds.
Kachur's 15-employee operation includes two crews providing services in land clearing, storm damage, crane service, firewood and delivery, screen topsoil and compost, mulch production (including coloring and delivery), trimming and pruning, stump grinding, dead wooding, Hi-Ranger rental, snow plowing and removal, and emergency services. The company's fleet includes two of everything for each tree crew: boom trucks (he recently added a third to eliminate the need for employees to climb trees), two chippers, two wood trucks, two skid steers, and two stump grinders. The second generation is in line to take the company to the next level. Kachur's daughter Leah works in the office. His son Michael is pursuing a horticulture degree at Michigan State University, which Kachur anticipates will bring an added knowledge base to the company.
What He Does Day to Day
Kachur first goes into the office to get a handle on the day's work. A hands-on company owner, he spends the rest of the day working with the employees in the mulch operation, running equipment, or doing maintenance.
What Led Him to This Line of Work
Kachur started his company from scratch. After graduating from high school in 1985, he took a job with a man in town providing tree services. "I loved working for the owner and I wanted to make more money," he says. The owner did not have a stump grinder. Kachur bought one himself after his father cosigned on a loan to buy an older model stump grinder for $12,000. His boss agreed to give him the work rather than subcontracting it. "For three years, I ground his stumps and his business paid for my machine and then some," says Kachur, who also did work on the side with the machine and put aside money in savings. He also bought other pieces of equipment and fixed them up. After five years and some differences of opinion with his boss on how to approach jobs, Kachur says his boss told him if he didn't like it, he could leave. "That day came," he says. "I quit. My grandfather cosigned for my first bucket truck. I already had a small one-ton chipper, a pickup, and a stump grinder. All I needed was a boom truck to get a decent start. I was married with two little girls. I quit my job, went self-employed, and never looked back. It wasn't always the easiest road, but I think I made good decisions." The business has grown significantly with two crews and increased service diversification. "Nobody has given me a nickel," says Kachur. "It's always been paid back money or money I've earned and paid for something."
What He Likes Best About His Work
"Every day is different," says Kachur. "There's always a different obstacle, a different tree. It's never the same situation. We may pick up the same chainsaw every day and we may get in the same piece of equipment, but we're always moving a different way. I have two children who are interested in the business and someday may want to kick me aside, which is fine, but if they don't, that's fine too."
His Biggest Challenge
Kachur's biggest challenge is finding employees "who want to learn the trade and learn how to operate equipment and appreciate it," he says. "In my 26 years of being self-employed, this is the worst for trying to find help." Kachur cites as driving factors issues with the E-Verify program as well as those who "fraudulently" go on disability, which he says has "created a vacuum of people who used to work who don't work anymore."