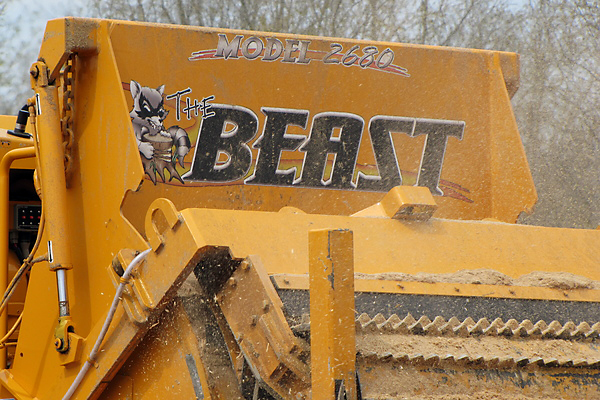 By Shawna Rodabaugh | Timberline Magazine | December 1, 2013
Mike Kachur of Kachur Tree Service always wanted a Beast Recycler. After working through the ranks with older and less capable machines, he's now at the top of his market with a Model 2680XP.
NILES, Mich. — The City of Niles, nestled on the banks of the St. Joseph River at the furthest reaches of southwest Lower Michigan, is known for a sense of community. Mike Kachur, owner of Kachur Tree Service lives his commitment to that community every day. He was raised in Niles, and in turn also raised his family there, establishing his business just a few minutes from his home. Mike and his crew of 12 have had their noses to the grindstone for the past 22 years providing tree services, but about ten years ago, Mike discovered a need and a business opportunity in regrinding wood waste.
"When I was just a tree service I was always trying to get rid of my junk, and it's like, what can you do with it?" said Kachur. "You're taking it to farm lands and dumping anywhere you can find. Sometimes you'd have to go back and push it into the hole you cleared and maintain the spot. You can't burn anymore. Everything has to be out by 9:00 p.m., so I thought when I started doing this, why not offer a free dump site to our competitors? I knew it would make them happy, and we could use the product, and it's been a great relationship. When it comes to my competitors, I don't think I can do it all, and competition is healthy. A lot of them, they come in here and we talk. We're all friends."
Owning someone else's second hand machine to process this waste wood was not an ideal prospect for Mike, but he knew he had to work with what he could afford. Mike worked his way up the chain, trying a few other, less expensive grinders with results that were less than satisfactory. After a used tub grinder he affectionately referred to as a "$20,000 piece of junk," he eventually invested into a machine from one of Bandit's main competitors.
"They had a sales pitch, but really we didn't know what we'd be going through to make material until the machine was up and running," he explained. "And the maintenance was a nightmare, constantly replacing hammermill rods. The company told me they had a bad slew of them; of course they never offered me any credit or anything, and they didn't start telling me this until they knew I was trading their machine in on something else. Then they were coming up with excuses!"
Through it all, Mike always kept an eye on what he wanted from the very beginning—a brand new Beast Recycler. He'd actually purchased his first wood chipper from Bandit several years ago so he was familiar with the service and quality.
"I worked my way up through what I could afford, but I always wanted a new Beast," he said. "They're just built better, heavier, and worth the investment. So I just kept working and made my way up to where I could buy one. And this is how I know I've made it, that I'm a success—I have a Beast."
Mike didn't just purchase any Beast. He bought one of the new Model 2680XP-Series Beast Recyclers, running a new CAT C15 Tier IV engine rated at 540 horsepower. With over 35 enhancements in eight different categories, the new line of Beast recyclers are even more productive than ever. Mike went the extra mile to order the "Big Mouth" option exclusive to the Model 2680XP. This special option increases the mill opening from 24 inches to 35 inches, essentially delivering the capacity of the larger Model 3680XP while maintaining the smaller size of the 2680XP. This gives Mike the production and efficiency he needs to keep up with the demands in the area, saving time and resources while also keeping wood waste out of the landfill.
"Everything we do is 100% recyclable," said Kachur. "If we don't turn it into mulch then we can turn it into topsoil or compost. Nothing goes to the landfill. You can still go there and dump for a small fee, but we're minimizing what these area tree services take to landfills because it helps their budgets by not having to pay a fee."
And after all, the community is what it's all about. Mike employs within the community, starting with longtime friend, Shawn Wreggelsworth who's worked with Mike since the beginning. His community relationships have helped to establish some of his long time clients, along with the dedication of the indispensible crew he works alongside with, and the improved, cleaner, and more uniform product produced from the Beast.
The Beast is also freeing up his crew to be able to focus on other needs within the company.
"It's saving me grind time," said Kachur. "I'm not spending so much time out here burning fuel; my operator can do other things now instead of being out here for a week trying to produce what we need. He can just do it in a few days. "
Since purchasing the 2680XP in January of 2013, Mike has around 300 hours on the machine. Winter isn't their typical time for grinding in the area, but in prime season they've been running up to 12 hours straight, only stopping occasionally to check on the teeth and the fluids. "As long as you're putting clean material through this, it's the lowest maintenance machine out there."
And the efficiency doesn't stop with the manpower to run the machines. With the use of screens with baffles, Mike believes some of the stick material that previously required a regrind can be processed in a single pass. This type of efficiency from a clean running, hardworking, fuel efficient machine means more manpower focusing on expanding the business.
"Who knows, maybe I'll buy another Beast eventually, have two running!" said Kachur, smiling.
With the business growing more each season, Mike is in it for the long haul. His large repeat base for tree clients, and a couple hundred regular mulch clients gives him more than enough work to keep his crew running through the entire year.
"This is all I know, I enjoy it. I enjoy making the products and serving the public, taking care of them so, it's a great feeling knowing that you've accomplished something while taking care of people."
Kachur Tree Service's continued relationship with Bandit will keep them moving on that track. With great customer service from the company, he's been able to keep things running smoothly.
"We really haven't had any issues with the machine," remarked Kachur. "We had a couple minor clutch issues but Bandit was on the ball with the vendor, and they came out and fixed it right away."
And since business doesn't wait for repairs, it's important to keep that 2680XP running strong and Mike just loves feeding his Beast.
"We were here grinding on a Sunday, and I just had to text my aunt and tell her the Beast was hungry and we had to feed it! She got a kick out of that."
Kachur Tree Service's pride in their equipment even extends past their daily use, with photos of the machines proudly displayed on their website for customers to see. Action shots of each stage of the process shows just how far Mike has come from starting with a truck and a good idea, so many years ago.
Mike's daughter, who recently graduated from college, has been at the company for a few summers helping with the work load and growth of the business. That's something he hopes she'll continue to do, as his crew definitely feels like a family whether they are a blood relation or not. It's a crew that started with Mike alone, and grew to encompass a group of hard workers that have contributed to the growth of Kachur Tree Service. That growth continues, and Bandit is happy to a part of it all.
"I've done business with Bandit for a while," remarked Kachur. "Bandit was my first brand new chipper and I've been with them ever since."